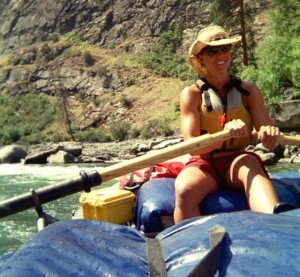 Our office staff has over 30 years combined experience on the river – we know the trip you're taking, we know backcountry flying, and we can help you plan. Whether it's by dropping some coolers at Indian Creek to lighten the loads off the top, or flying the whole group into an airstrip to avoid high water chaos or low water rocks, we're here to make your trip just that much better. We've been flying some of you for decades, and we're happy to be doing so again this year.
We've put this page together to help give you some starting information, but the best bet is to give us a call. Private trips vary quite a bit, and once we talk to you, we'll have a better idea of the best way to help out your particular trip.
Something to keep in mind while considering flights: unless you have other arrangements, you'll need to pay to have your vehicles shuttled. Depending on the number of vehicles being shuttled, many private boaters have found that flying out of Salmon can save money, as shuttles from Salmon to Cache Bar are cheaper than from Stanley. And if you get to Salmon a day early, you can shuttle your own vehicles, eliminating the shuttle cost all together.
Gem Air Planes
[table "" not found /]

*Maximum weight and passenger load is not always available, depending on the airstrip and conditions. Please call to talk with us about your particular plans.
Volume Considerations
Whatever you decide to fly in, you can only fit so much weight and volume in a plane. So, the more dense the gear (pack fluffy stuff down, make sure frames break down, etc) the less likely you'll run into volume problems. As far as frames go – many frames that don't break down won't even fit in our doors, so break-down frames are important. Hardshell kayaks are space-eaters no matter what, so make sure you plan to pack them tight!
Timing Considerations
We try to have all of our backcountry flying wrapped up in the morning if possible, and most groups fly in the day before they launch. Flights for our float trips will usually start between 6:00am and 8:00am, and it frequently takes a couple of laps in. If you have timing constrictions that you are worried about, give us a call and we'll work on a solution.
Other Resources
Do you need to rent gear? Blackadar Boating can hook you up.
Do you need help with the shuttle? Blackadar Boating or River Shuttles can help you out.
Do you want help with your menu/food pack? Salmon River Food Packs has you covered.