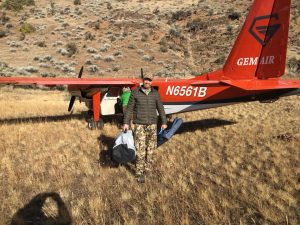 Gem Air pilots have been taking hunters into the backcountry with Idaho hunting flights for decades, and we'd be happy to help you get to your hunt too. 
We fly hunters in the Spring and Fall into multiple strips in the Frank Church and Selway Bitterroot Wilderness areas. We can fly from almost anywhere, but our planes are based in Salmon, Idaho, so that's where you'll get the best pricing. 
Pricing: This is usually everyone's first question. But it's hard to figure out pricing until we know how many people are flying, what sort of gear you have, and which strips you want to get in and out of. Since there are plenty of variables, we suggest you give us a call. After we get more info from you, we can give you a good idea on what it will cost, even if you don't have all the details pinned down yet.
Interested in other Frank Church backcountry adventures? Check out our backcountry page. 
Getting Started with Idaho Hunting Flights
We've put this information page together to help give you some starting information, but the best bet is to give us a call. That's because all hunts tend to be different from one another. Once we talk to you, we'll have a better idea of how to help with your particular hunt.
Volume Considerations
You can only fit so much weight and volume in a plane. We don't recommend bringing big bulky things (like coolers) because it's likely to require a larger plane than you would otherwise need.
Timing Considerations
We try to have all of our backcountry flying wrapped up in the morning if possible. The winds pick up in the afternoon, and that's not good for flying in the canyons.
Idaho hunting flights will normally depart between 7 and 10am, depending on what else is going on that day. 
If you have timing constrictions that you are worried about, give us a call and we'll work on a solution.
Weather Considerations
Weather is always the boss. If weather is bad, we generally just wait for the next good window, and take you in or out then. We don't usually have to delay for too long, but it can happen.
 It's good to have a satellite phone or an inReach so we can communicate if weather becomes an issue after we drop you off. 
What our aircraft can carry depends on the strip and route to be flown, and can also depend on weather. To give you  ballpark idea of what our planes can do, we've included some rules of thumb below – just keep in mind that the maximum loads for your flight may be different, depending on conditions and route. Want more info on our aircraft? Check out our aircraft page.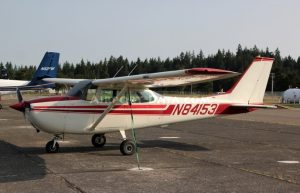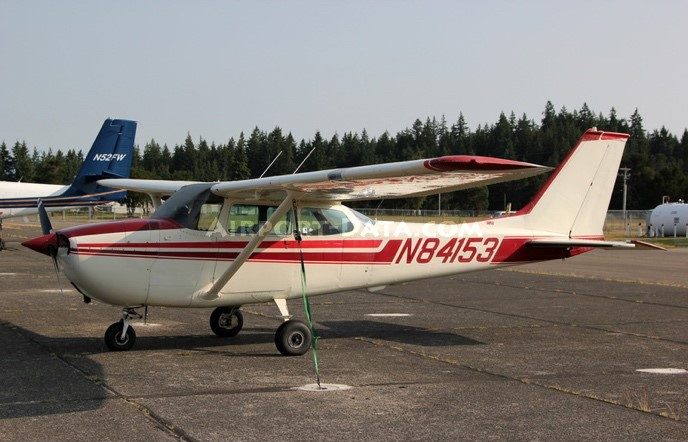 Can carry up to 500lbs. Good for flying 1 or 2 passengers into the backcountry. We don't use this plane to pull people out of the backcountry.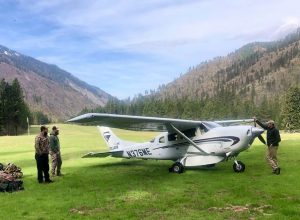 The backcountry staple. Can fly up to 1000lbs into the backcountry. Great for moving 3-4 hunters, depending on weights and gear.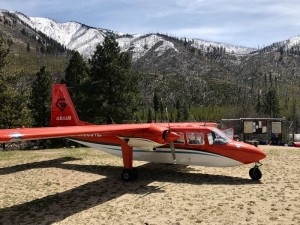 The backcountry pack mule. Can carry up to 1,700lbs into the backcountry. Larger groups, or those who are staying for a while and really bringing in a camp.
Idaho Hunting Flights - Wilderness Map
This map helps show some of the options available to people who want to fly in to the Frank Church Wilderness and Selway Bitterroot Wilderness. It's a fun map and gives some good reference, but it obviously should not be used for navigation! 
Looking for a more accurate map? Check out the Idaho Fish and Game Hunt Planning map. It shows the different boundaries of each zone. You can also turn layers on and off, including a layer that shows USFS airstrips. 
We don't have a deadline. For Spring flights, we prefer you give us at least two weeks notice, but if you call us up the day before and ask for a flight, we'll do everything we can to accommodate you. For Fall flights, we prefer you book by the end of May, but again, if you call us up the day before, we will try to make it work!