Backcountry flying is an Idaho specialty.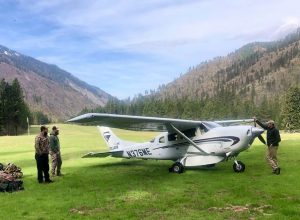 That's because Idaho is home to the Frank Church Wilderness of No Return- the largest roadless wilderness in the lower 48. If you want to get to the most remote nooks and crannies of the central Idaho mountains, flying is the way to go. 
Flying the Idaho backcountry not only gives you spectacular views, it is also an efficient way to access these gems of public land, and we'd love to help. 
Whether you are boating, hunting, fishing, backpacking, or looking for a place to just relax, we can work with you to make connecting to your Idaho backcountry experience easy and beautiful.
We fly groups in every year for all sorts of backcountry adventures. We can help you plan, and talk you through any options you are considering.
If you are interested in any of the following in the Frank Church Wilderness, or Selway-Bitterroot Wilderness, just give us a call. 
Hunting
Fishing
Backpacking
Private Boating
Backcountry Lodges
Scenic Flights
Again, give us a call, and we can help you out.