Backcountry flying is an Idaho specialty.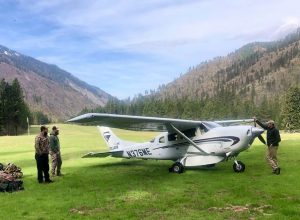 That's because Idaho is home to the Frank Church Wilderness of No Return- the largest roadless wilderness in the lower 48. Right next to the Frank Church is the Selway Bitterroot Wilderness. If you want to get to the most remote nooks and crannies of the central Idaho mountains, flying can get you there faster than any other option, so you can spend more time exploring. 
Flying the Idaho backcountry gives you spectacular views and is an efficient way to access these gems of public land. Whether you are boating, hunting, fishing, backpacking, or looking for a place to just relax, we can work with you to make connecting to your Idaho backcountry experience easy and beautiful. Call us to talk about some options!
We can fly just a few coolers, or your whole trip.
We fly hunters in the Spring and late into the Fall. Call us for best pricing.
Take a scenic breakfast flight and be back in town by noon, or stay at a lodge for multiple days. 
Backpacking in the wilderness is an amazing experience, and there is no end to opportunities. Here are some starter ideas.
Frank Church Wilderness Flight Map
This map helps show some of the options available to people who want to fly in to the Frank Church Wilderness and Selway Bitterroot Wilderness. It's a fun map and gives some good reference, but it obviously should not be used for navigation!
Looking for a more accurate map? Check out the Idaho Fish and Game Hunt Planning map. It was built for hunters, but includes a lot of information that is useful for any backcountry user, including trails, airstrips, and more.